(Last Updated On: May 25, 2020)
Are you on the hunt for the best Easter 2020 has to offer? No matter how old we get, there is always something about Easter eggs that still fill us up with joy. In the last few years, Easter eggs have taken on a bit of a life of their own. Chocolatiers and shops around the world race to see who can come up with the most unique and tasty products. Equally, this year is no exception. The shops have once again outdone themselves, as usual for Easter 2020. They are ravishing and are suitable for all ages and will surely impress even the connoisseurs. Here is
our list
of the most amazing luxurious chocolate Easter eggs 2020 you can buy just in time for Easter holidays.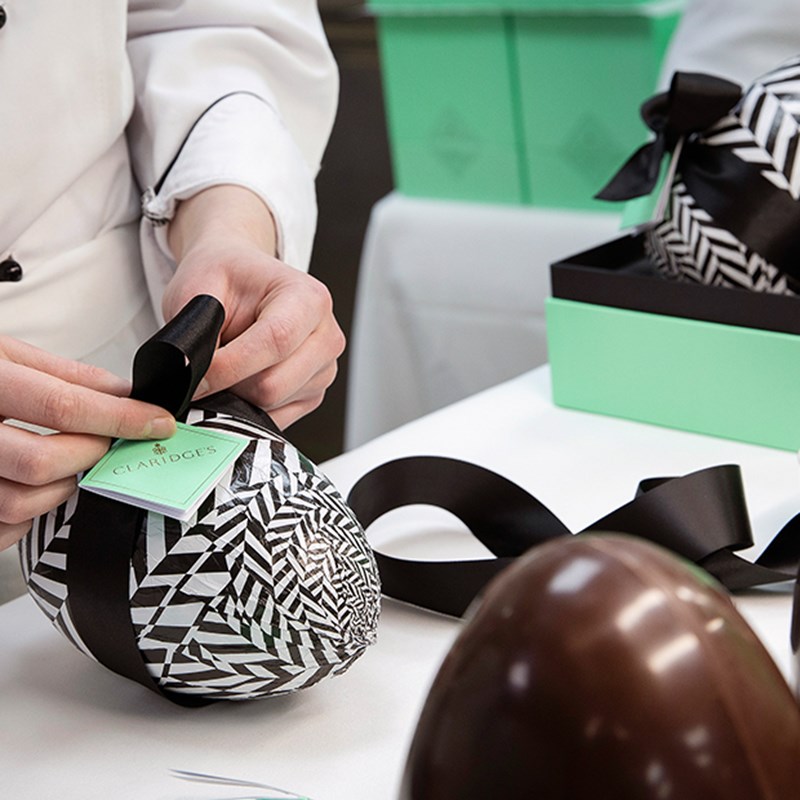 £55 each
"
Claridge's Easter Egg 2020
Celebrate this special occasion with the limited-edition 2020 Claridge's Easter Egg. This art deco treat is inspired by their striking black-and-white marble lobby. It brings the elegance of Claridge's to this traditional Easter gift. Furthermore, our pastry team has handmade a limited number of Easter Eggs from the finest quality Valrhona milk, white or dark chocolate. But break it open and inside you will find a selection of hand-made salted-caramel gull's eggs. Without a doubt, your Easter Egg comes beautifully presented in a Claridge's jade gift box."
Harrods's Easter Egg
"Artist Camille Walala has partnered with Harrods to elevate the humble Easter egg 2020 to striking new levels. Moreover, she created three exclusive patterns, her vibrant prints have been translated onto Easter eggs, each one hand painted by an artisan chocolatier. The eggs are made using 41% milk couverture – an exclusive blend created by Harrods pastry chefs in a Parisian chocolate laboratory. his project, I've remodelled some of my classic designs to work with the shape. My projects usually involve painting vast walls, so it will be interesting to see the same styles on a smaller scale." With only 12 eggs in total, the limited-edition eggs are highly-prized; a fitting marriage of an exciting London designer with our world-famous store."
£125.00
Fortnum & Mason has come out with their Easter hampers filled with the finest things. They include Personalised Blanc de Blanc Champagne and chocolates, to seasonal favourites.
"An extraordinary hamper for an extraordinary Easter! Nestled inside this delectable hamper you will find an abundance of delicious Fortnum's seasonal favourites, alongside a bottle of our Personalised Blanc de Blanc Champagne."
Additionally, Maison Fauchon has decided to keep their ongoing exotic Brazil theme for this year's Easter season. They present a collection of tasty chocolates in various forms of animals in different chocolate flavours.
Last but not least, Guy Krenzer from Maison Lenôtre never fails to amazes us and waters our mouths for Easter 2020. This year, alongside Guy Krenzer, Marc Sibold, chocolate maker chef and MOF pastry chef Jean-Christophe Jeanson have teamed up and came up with a very cute farm chocolate idea. They also include five animals and a box filled with surprises!
box to share (€69)
If these Easter eggs inspired you to buy some for your loved ones,
get in touch with us.
Our team of food lovers and catering experts will help organise the luxury Easter Celebrations you deserve.
Latest posts by Jules Darthos
(see all)